ID4FEED presents The first Heidi Book dedicated to poultry. A comprehensive review of literature on phytogenics in poultry nutrition.
And it is now on sale!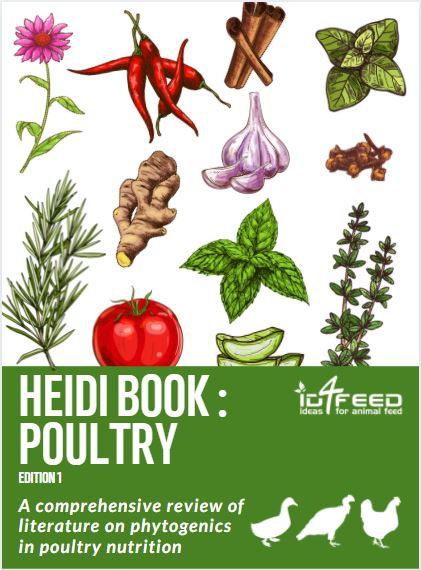 Plant and plant extracts used as feed supplements in poultry feed are becoming increasingly popular worldwide. Their beneficial properties are attributed to their specific bioactive components, mostly secondary metabolites, which can present some interesting properties such as anti-inflammatory, antioxidant or immuno-stimulant. However, one of the limits of development of those solutions are that they are usually studied as a mixture and also that there's a lack of practical and independent tools to select them. Heidi Book: Poultry wants to provide a database synthesizing the relevant literature using plant and plant extracts potentially interesting for their effect on the performance and welfare of poultry. It is organized in 10 chapter which are adapted to some field challenges.
Clémence Messant, Agronomist specialized in Animal Sciences (Agrocampus-Ouest), in charge of the operations in Heidi4 Group, presented the Heidi book Poultry during the Biosis Days 2021. This presentation introduce the book and its interest for industry professional.
👈 Watch the video right here
Price : 49.90€ (+ Shipping costs)