📢 La Dépêche – Le Petit Meunier, French newspaper, talks about us in its review of 9 February 2021. With a dossier on animal nutrition entitled "Plant extracts at the service of animal health and well-being". You will find an article on ID4Feed which exposes the use of ID Phyt Capcin in sows.
The journalist quotes about our works " Its researchers have shown that the control of this oxido-inflammatory cycle is not only due to the action of capsaicinoids but also to the other secondary metabolites present in the chilli pepper", "ID4Feed is the interface between extraction and galenics.".
Article translated :
"Based in Annecy (Haute-Savoie), the start-up ID4Feed is investing in eco-extraction to complement its other technologies for extracting and vectorizing active ingredients from plants, from its research platform PEEV (Eco-extraction and Vectorization Platform) in Vaucluse. ID4Feed works on stimulation and induction on plants so that they produce more active ingredients (patents have been submited on this elicitation) and then on encapsulation to protect these active ingredients up to their site of action in the animal's digestive system. The idea is to reduce the cost of producing phytogenic active ingredients for animal nutrition, which is less remunerative than sectors such as cosmetics in particular. ID4Feed's target number 1 is the fight against inflammation related to oxidation inflammation in the digestive tract."
Thank you for this beautiful article.
🌿🐷🌱🐮🌶🐓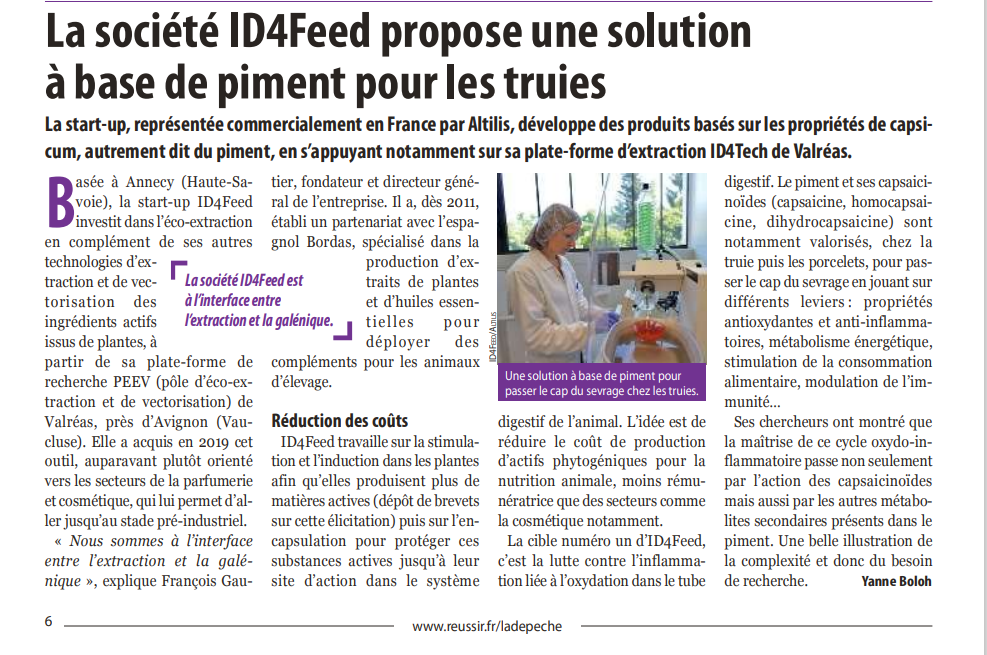 Follow Us on LinkedIn
#ID4Feed #IDPhytCapcin #PEEV